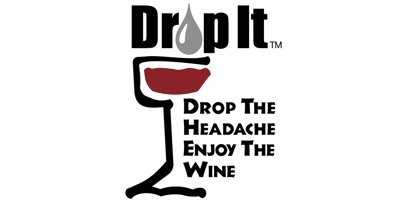 Dunlap Bennett & Ludwig is proud to announce our featured Trademark of The Month, Drop It™, owned by Jennifer Corcoran. We take great pleasure in helping our clients protect their brands through trademark registration and getting to continue to celebrate their success as their businesses grow.
Drop It™ is a small business founded by Jennifer Corcoran in Cape Charles, Virginia. Their namesake product is a liquid that is designed to eliminate sulfites and dramatically reduce tannins in wine, which have a reputation for causing headaches. With just a few drops, Drop It™ targets the offending compounds with the intent of leaving you with a smoother glass of wine.
Although this product has been in the works for only two years, it has already seen great success as the recent recipient of an innovation award through the ODU Innovator Business center. This qualifies Drop It™ for the national – level small business innovator competition in the Washington D.C area.
On her trademark registration, Jennifer stated "My experience with Dunlap Bennett & Ludwig has been very professional. They call and make all their appointments on time, and they are very respectful. The follow up is wonderful, and when they say they're going to send it, they send it!" We are delighted to be a part of her journey as her business continues to grow. Congratulations on your trademark, Jennifer, and best of luck in your next competition!
To learn more about Drop It™, or to place your own order, visit them at  https://dropitwine.com/.
Posted in: Intellectual Property, Intellectual Property - Trademarks